Features
Viewing area: 1092mm (w) x 382mm (h) x 375mm (d)
Remote and interior lighting
Place a TV above the fireplace without it getting damaged
Hang artwork without fear of warping
Paint will not discolour, drywall will not crack
No internal fans required
Use any finish right to the edge of the fire, even wood or wallpaper an uninterrupted view of the flames
Seamlessly integrates into any interior
Invisible glass safety barrier (patented)
No frames, mesh or silicone
Integrated liner panel options and black glass accessories
Controllable Warmth
FLEXIBLE VENTING OPTIONS
Regency's patented cool wall system releases warmth at ceiling level. This system reduces excessive radiant heat in front of the fireplace so you can enjoy your fireplace more often.
Design your own chase vent solution to suit your home
Use optional front or side chase vent grills
Release warmth into the room discreetly
COOL WALL SYSTEM
Our patented system draws the cool air around the floating glass safety barrier. Cooler air is then split between the heat exchanger and the inside wall surface. The air travelling through the heat exchanger is heated by the fireplace and then directed out the back of the fireplace. The combined warmed air is then vented back into the room.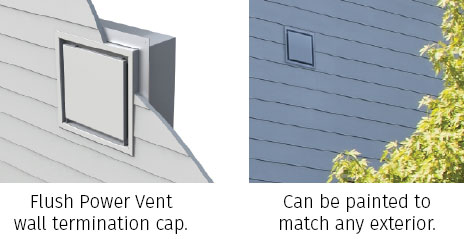 FLUSH POWER VENT
You can now vent City Series models above or below grade with our new flush horizontal power vent wall termination cap. The flush design and ability to be painted allows for seamless integration into the existing exterior of any home.
Vent runs up to 72 ft
Allows for 7 ft negative vent run below first elbow
Use up to six 90° elbows or twelve 45° elbows
Use flex vent or rigid pipe
Horizontal power vent wall termination cap can be installed flush or adjusted to the depth of your wall